Weekend Event Guide: Parkways, architecture, bikepacking, and more
Weekend Event Guide: Parkways, architecture, bikepacking, and more
Explore the streets of Northeast Portland at a biking pace at Sunday Parkways.
(Photo © J.Maus/BikePortland)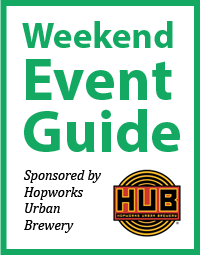 This menu of delicious rides and events is brought to you by our friends at Hopworks Urban Brewery. Their support makes BikePortland possible.
Friday, July 24th
Sprockettes Monthly Ride – 9:15 pm at Irving Park (NE 7th and Fargo)
Ride with the Sprockettes, Portland's mini-bike dance team. Costumes encouraged and be prepared to swim "with a bathing suit or your birthday suit" if it's hot. More info here.
Saturday, July 25th
Saturday Morning Medley – 9:30 am at Wilshire Park (NE 36th and Skidmore)
This is a choose-your-own-adventure ride hosted by the Portland Wheelmen Touring Club. Route options include a flat excursion of 35 miles out to Kelley Point Park, a Lacamas Lake loop, or a jaunt into the West Hills. More info here.
Biking About Architecture – 11:00 am at Bipartisan Cafe (7901 SE Stark)
Jenny Fosmire is back and she's ready to share the wonderful residential architecture of the Mt. Tabor neighborhood in southeast Portland. Expect a 7-mile ride at a laid-back pace while viewing about 25 homes. The ride will end on Hawthorne Blvd so bring some money for post-ride food and drinks. More info here (FB).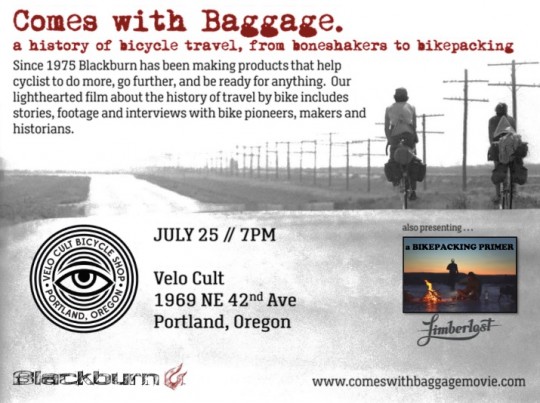 Comes With Baggage film screening – 7:00 pm at Velo Cult (1969 NE 42nd)
It's bikepacking and touring night at Velo Cult! Come and grab a sandwich and a drink and watch, Comes with Baggage a film presented by Blackburn that documents the history of bicycle travel. Expect historical footage and interviews with bike pioneers. There will also be a bikepacking primer with Gabe from Limberlost.
Sunday, July 26th
Tour de Columbia County – 8:00 am at Barlow Bikes (315 S Columbia River Hwy in St. Helens)
This is a free group ride that will be a great way to explore the excellent riding opportunities northwest of Portland. There will be two routes to choose from, 32 or 85 miles. Expect some dirt roads (CZ trail!) and come prepared and self-supported. More info here.
Sunday Parkways Northeast – 11:00 am to 4:00 pm
Come out and enjoy an 8-mile carfree loop in northeast Portland. Park highlights include Woodlawn, Alberta, Khunamokwst and Fernhill Parks. More info here.
— Did we miss anything? Let us know via the comments and make sure to drop us a line if you have an upcoming event you'd like us to feature next week.
The post Weekend Event Guide: Parkways, architecture, bikepacking, and more appeared first on BikePortland.org.