Weekend Event Guide: Alleycat alumni, Grease sing-along & more
Weekend Event Guide: Alleycat alumni, Grease sing-along & more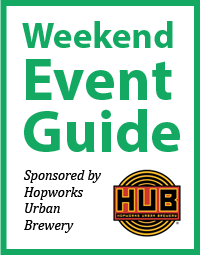 This menu of delicious rides and events is brought to you by our friends at Hopworks Urban Brewery. Their support makes BikePortland possible.
Today may be starting out pleasantly brisk with a dose of drizzle, but things are expected to turn around Saturday and Sunday and hit highs in the 80s. So get ready to take a ride and catch some rays. Here are the organized bike events we've heard about happening this weekend so far…
Friday, Aug. 14
Clinton Social Ride – 5 p.m. at PAZ PDX (SE 16th and Woodward)
Latest edition of the "positive and non-confrontational" monthly social ride down the middle of Clinton with the goal of communicating that Clinton Street is in fact supposed to prioritize bike traffic. More info here.
Rush Hour Alleycat Alumni Ride – 7 p.m. at Terry Schrunk Plaza, (SW Madison and 3rd Ave)
"A friendly group ride, with beer and tacos in the middle, and joints at the end. All previous participants encouraged to come, everyone else is welcome too!" More info here.
Ride to the Grease sing-along – 7:30 p.m. on Eastbank Esplanade under Tilikum Crossing
Bike-based movie aficionado Tom Howe follows up on his Pedalpalooza sing-along by leading a ride to see the classic musical at an outdoor city screening in Washington Park. Route: "3.5 miles using the less-steep meandering route to get there." More info here.
Midnight Mystery Ride – 11:59 p.m. at the Bear Paw Inn (3237 SE Milwaukie Ave)
Portland's beloved late-night takeover of big streets with an unknown destination. More info here.
Saturday, Aug. 15
Beaverton, Banks and Beyond Bicycle Tour – 7 a.m. at Papa's Pizza Parlor (15700 Blueridge Drive, Beaverton)
The annual scenic bike tour benefits the NW Bicycle Safety Council's program to fit kids, families, and communities with free bike helmets and offers rides of 100, 86, 64, and 32 miles. Same-day registration $45. More info here.
Wrench on BTA Bikes – 10 a.m. – 2 p.m. at the Parks Building (920 NE 21st Ave)
Every year, the Bicycle Transportation Alliance uses its stash of bikes to teach thousands of 4th and 5th graders the joys of safe biking on Portland streets. But they don't fix themselves. This happens on the third Saturday of every month. More info here.
Sunday, Aug. 16
In Search Of … Ripplebrook – 8 a.m. at SE 46th & Woodstock
A free century ride organized by the Missing Link bike shop, with a 50 mile option available for good measure. After coffee and snacks, head east on the Springwater trail, south to Estacada, and finally to Ripplebrook ranger station. More info here.
— Did we miss anything? Let us know via the comments and make sure to drop us a line if you have an upcoming event you'd like us to feature next week.
The post Weekend Event Guide: Alleycat alumni, Grease sing-along & more appeared first on BikePortland.org.