After Outback incidents and poop-fire, event will teach 'Leave no Trace' ethics
After Outback incidents and poop-fire, event will teach 'Leave no Trace' ethics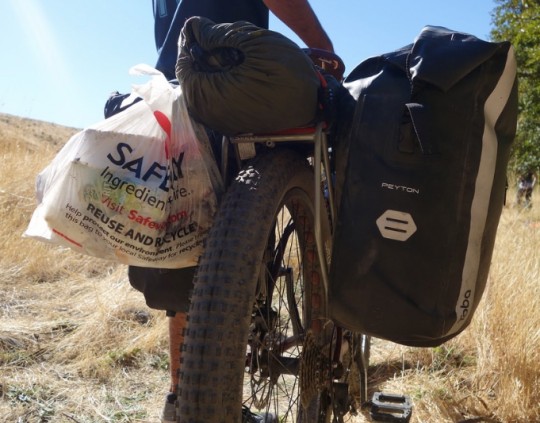 This past summer as bikepacking reached new heights of popularity, it also faced its first major PR crisis.

It started as a relatively innocent post on VeloDirt.com about the Oregon Outback. Velo Dirt's Donnie Kolb (the man responsible for popularizing the off-road route that runs 375 miles from Klamath Falls to the Columbia River Gorge) wrote a headline that stunned adventure cycling fans: The Death of the Oregon Outback.
Kolb heard that trash and human waste had been left at various campsites along the route and the locals were not happy about it. Kolb was understandably upset. "If you can't follow Leave No Trace ethics," he wrote, "if you can't show respect to the folks who live on this route, and you can't respect the wild nature you ride through, then stay home."
Kolb's post spread like wildfire. Then, just a month later, an actual wildfire spread. A guy cycling on dirt roads in Idaho's backcountry relieved himself then lit the toilet paper on fire. That incident went viral thanks to embarrassing headlines like "Pooping cyclist starts wildfire."
It's with these unfortunate incidents in mind that we've decided to organize on a free event to raise awareness about how to bike in the woods without making an impact. Check the event flyer and description below: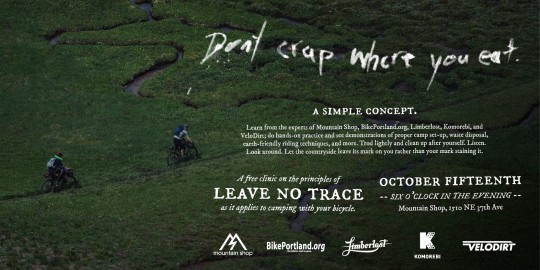 Don't crap where you eat. A simple concept.

Learn from the experts of Mountain Shop, BikePortland.org, Limberlost, Komorebi, and VeloDirt; do hands-on practice and see demonstrations of proper camp set-up, waste disposal, earth-friendly riding techniques, and more. Trod lightly and clean up after yourself. Listen. Look around. Let the countryside leave its mark on you rather than your mark staining it.

A free clinic on the principles of leave no trace as it applies to camping with your bicycle.
Come and find out what a cathole is and why you should learn how to dig one. Please consider joining us and these other fine folks at Mountain Shop on Sandy Blvd. (1510 NE 37th) at 6:00 pm on October 15th (next Thursday). RSVP and tell your friends to come via Facebook.
The post After Outback incidents and poop-fire, event will teach 'Leave no Trace' ethics appeared first on BikePortland.org.