Weekend Event Guide: Pet parade, public art, and slow pokes
Weekend Event Guide: Pet parade, public art, and slow pokes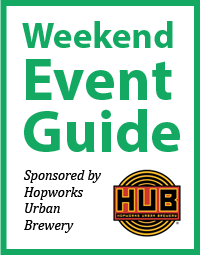 This menu of delicious rides and events is brought to you by our friends at Hopworks Urban Brewery. Their support makes BikePortland possible.
I'm not sure why but this weekend all the action is on Saturday.
For some reason that's the day everyone has planned their rides. That might be smart because the forecast says it should be dry and Sunday is when the rain comes. If you know of any rides or events happening on Friday or Sunday let me know and I'll add them to the guide.
What are your plans for the weekend? Whatever they are we hope they include a bike (or maybe you need a bike break? That's fine too).
Have a great weekend!

Here's what the weather gods predict:
Saturday, October 24th
Valleycat – Brevet meets Alleycat and Fundraiser – 8:00 am at 2735 SE Park Ave
An 80-mile ride into the Willamette Valley (with checkpoints) where teams are encouraged and a fun afterparty is guaranteed. How can you go wrong? Oh, and it's a fundraiser for a woman who was hit while biking by someone without insurance. Bring $25 to help out Val. More info here (FB).
Portland Velo Group Ride – 9:00 am at Evergreen Office Park (22985 NW Evergreen Parkway in Hillsboro)
This week's PV Saturday ride will be 43 miles on backroads from Hillsboro up to Pumpkin Ridge. Come out and explore new roads or challenge yourself with one of the area's largest and fastest group rides. More info here
Art Along the I-205 Path Ride – 9:45 am to 12:45 pm at Ed Benedict Park (SE 104th and Bush)
New to the area? Love art? Like slow, social rides? This is the ride for you. Learn about the interesting public art along the path from members of the East Portland Action Plan Bicycle Subcommittee. Part of PBOT's By Cycle series. More info here.
ArtBike and Kinetic Sculpture Ride – 11:45 am at OMSI.
A ride for "Burners" that will feature all sorts of creative contraptions like mobile sound systems, BBQ bikes, and more. It's family friendly too so bring the little ones for the ride from OMSI to Sellwood Park where there will be a picnic. More info here.
N.O.I.S.E. Ride – 12:00 pm at Fresh Pot (4001 N Mississippi)
I don't know what it stands for, but I know this ride is a classic that I regret not checking out every year. Put on by excellent masters in the art of fun biking. Here's how they describe it: "single-speed-centric, urban on-and-off road adventure ride through Portland that features a healthy helping of single-track, jumps, gravel grinding, sand rallying, great Portland views and of course bike-Buzkashi." More info here (FB).
Pets on Bikes Halloween Edition – 2:30 pm to 5:00 pm at Revolution Hall (SE 12th and Stark)
Join the Pooch Pedalers for this treat-filled ride with your furry friends all dressed up in their spooky costumes. Ride will stop by businesses for some doggy trick-or-treating. More info here.
Sunday, October 25th
Slow Poke Ride – 10:00 am at TriMet Park & Ride (NE 96th & Sandy Blvd)
Roll through north Portland on this slow (10-12 mph), 25-mile ride. Hosted by the Portland Wheelman (and Women!) Touring Club. More info here.
— Did we miss anything? Let us know via the comments and make sure to drop us a line if you have an upcoming event you'd like us to feature next week.
The post Weekend Event Guide: Pet parade, public art, and slow pokes appeared first on BikePortland.org.