Bait bike programs trace thefts but can struggle to convict, KATU reports
Bait bike programs trace thefts but can struggle to convict, KATU reports
With Reed College's bait bike program dealing with enforcement challenges, local ABC affiliate KATU-TV is shedding more light on the thorny issue of theft deterrence.
In the most recent case, KATU reported yesterday, one of the bikes that the college has equipped with a GPS unit was tracked to a "chop shop hidden behind [a] bookcase." But nobody was arrested, because there was no easy way to prove that any specific person in the house had done the deed.
In another case, one of the bait bikes went missing, along with its GPS unit. (Each GPS unit costs an estimated $2,000 and requires a data plan just under $100 a month.)
KATU quotes Bryan Hance of BikeIndex.org, a fan of bait bike programs. Hance argues that when bait bike programs are successfully tracking down a few chop shops, they're functioning as deterrents to Portland's growing problem of bike theft.
"I'm sure they're getting 10 times the value 'cause the word does get out, 'Don't steal bikes at Reed,'" said Bryan Hance, who runs BikeIndex.org.

Hance would like to see Portland police create a bait bike program as part of its Bike Theft Task Force.

"It's worth putting these bait bikes out there," said Hance. "It is worth chasing them through the community because you always find something crazier at the other end."

In the case of the bait bike recovered from an abandoned Southeast Portland home, none of the people at the home was arrested.

"There has to be enforcement behind it," said Hance. "There has to be prosecution."

Hance says bait bike programs are most effective when the bikes are more than $1,000 in value, which would bring a felony theft charge against the person accused of stealing the bike.
That's the most maddening thing about bike theft enforcement, of course: cheap bikes are stolen just as often as expensive ones, and the loss of a bike can matter far more to the life of someone riding a cheaper bike — as much as a car theft might to someone who has more money.
As we've reported, some bait bike stings are effective. Earlier this year, Clackamas County sheriff's deputies managed to trace a Reed bait bike to a moving van that also included several other bikes, stolen property and some methamphetamine. Two men in the van were arrested.
There's no question that bike theft is a serious problem, and police statistics show that it's been getting more serious. The fact that the spike in bike thefts followed Portland's 2007-2010 bike boom, rather than going along with it, suggests that many thefts aren't merely crimes of opportunity; they're premeditated to some extent and require an organized resale network.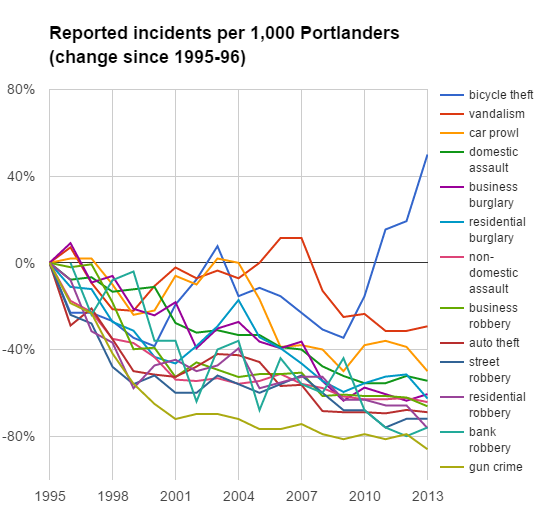 KATU reporter Reed Andrews noted that even if Reed's program is successfully deterring theft there, it may just be driving would-be thieves elsewhere unless other programs exist, too. He asked the city and Portland State University whether they're considering bait bike programs of their own. PSU noted that it's working to deter bike theft by constructing secure bike parking garages that can house a minority of its students' and faculty's bikes.
Portland police "would only say they're looking into bait bikes as an option," Andrews said.
— Michael Andersen, (503) 333-7824 – michael@bikeportland.org
The post Bait bike programs trace thefts but can struggle to convict, KATU reports appeared first on BikePortland.org.