The Monday Roundup: German scofflaws, winter tips, John Wayne threat, and more
The Monday Roundup: German scofflaws, winter tips, John Wayne threat, and more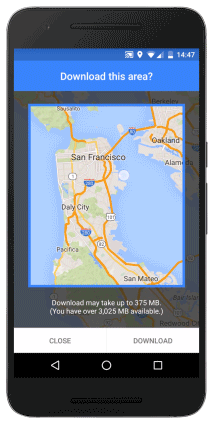 This week's Monday Roundup is brought to you by Cascadia Ciderworks United, makers of fine cider made right here in Portland.

Here are the bike-related links from around the world that caught our eyes this week:
Offline maps: Google Maps can now pre-download maps of areas you plan to journey.
John Wayne Trail threat: A major biking path in eastern Washington is under threat because two state reps are taking "concerns of adjacent landowners" way too seriously. (More details.)
Tips and tricks: To stay safe at night this winter, convince your city to stripe narrower traffic lanes and install speed cameras. Wouldn't it be nice if more news outlets at least mentioned this alongside lights and reflectors?
Beyoncé on a bike: GearJunkie aims for a balanced exploration of whether and when an image of a woman on a bicycle goes from sexy to sexist.

German rules: The most famous law-abiders in the world are considering decriminalizing red-light running on bikes or foot.
Bike lane or else: A Louisville man faces possible jail time for "obstructing a highway" after he refused to use a bike lane.
Devolving transportation: Republican candidate Marco Rubio says he'd veto any gas tax hike. He wants federal gas taxes to drop 80 percent and dedicated mass transit funding to end.
Too-bright bike lights: Chill out, argues Josh Cohen.
Speed camera: A Pittsburgher used a "cell phone video, his computer, and open source software" to calculate the maximum speed of every car that passed a stretch of road for 10 minutes.
Chinese trap: Now that Beijing's biking rate is down 70 percent in 15 years, officials are scrambling to bring it back up. One of the main reasons people don't bike: air pollution.
Global benefits: Tripling the number of urban bike trips by 2050 would cut urban transport carbon emissions 7 percent and release $25 trillion in worldwide wealth, a new study calculated.
Co-housing: Adults living with parents or other adults isn't the "new normal." Most places outside the United States, it's just plain normal.
Affordable housing: New private-sector homes don't house poor people, but they do give rich people a reason to move out of older homes faster.
Asphalt subsidy: Congressional Republicans' latest strategy for avoiding gas tax hikes is to repurpose profits from the Federal Reserve.
Safest nation: The country with the world's lowest traffic fatality rate will very likely surprise you.
Truck ban: London's legislature voted unanimously to ban trucks during rush hour.
Freight myth: You can't build an export economy on cheap freight, writes economist Joe Cortright. If cheap freight were essential to Portland's economy, he asks, why did job growth only accelerate when its shipping terminal closed?
Autonomous safety: A Google self-driving car was pulled over by California police for … driving too slowly.
Transit + bike share: Los Angeles's integrated system, the country's first, is releasing details of its fee structure.
Portland inspiration: Orlando has been arguing whether or our bike infrastructure should be a model.
Global biking: An 18-minute video by the BBC explores how the bicycle became "the world's most popular means of transport."
Ouch: A yellow jersey from Lance Armstrong's bogus 2004 Tour de France win sold at auction for $225.
And in your video of the week, a briefly weeping Dr. Donald Shoup makes a cameo in an episode of TruTV that explains the near-collapse of midcentury U.S. cities in less than two minutes.
If you come across a noteworthy story, send it in via email, Tweet @bikeportland, or whatever else and we'll consider adding it to next Monday's roundup.
— Michael Andersen, (503) 333-7824 – michael@bikeportland.org
The post The Monday Roundup: German scofflaws, winter tips, John Wayne threat, and more appeared first on BikePortland.org.