Join us for a live episode of the BikePortland Podcast on December 17th
Join us for a live episode of the BikePortland Podcast on December 17th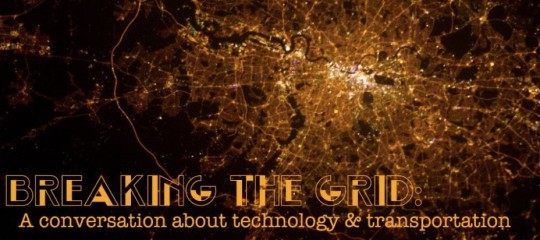 The BikePortland Podcast is coming back. With a bang.

We know it's been too long since our last episode (thanks for all your emails asking about it), so we're excited to announce that we've teamed up with Oregon Walks and the Community Cycling Center for a live recording event. It's a way to get up-close and personal with our podcast while enjoying free food and drinks and help support these two fantastic local non-profits.
The topic of the show is Breaking the Grid: Tech & Transportation in Conversation and it's happening at 5:30 pm on December 17th at the headquarters of Simple (926 NW 13th Ave, #200). The show is being put together by Lillian Karabaic and our very own news editor Michael Andersen will moderate the discussion. Joining Michael and Lily will be: William Henderson, founder of Knock Software and creator of the Ride Report app that's giving people powerful new ways to quantify their trips and giving planners new ways to use the data; Mychal Tetteh, CEO of the Community Cycling Center; and Noel Mickelberry, Executive Director of Oregon Walks.
This is sure to be a conversation you won't want to miss; but there's a catch. Space at the event is limited so if you'd like to attend you'll need to RSVP. Tickets are available for a $10 donation to both Oregon Walks and the Community Cycling Center via the Willamette Week's Give Guide.
We've also set aside 10 tickets for BikePortland subscribers. If you're a BikePortlander, just be one of the first 10 to RSVP by filling out the ticket form and you'll be all set. (If you still haven't signed up, here's where you make that happen.)
Please join us on the 17th for an illuminating discussion while enjoying a free buffet, beer, cider, and wine bar courtesy of Hopworks Urban Brewery, Lagunitas Brewery, and Reverand Nat's.
Learn more and grab the RSVP link at the Facebook event page.
— Jonathan Maus, (503) 706-8804 – jonathan@bikeportland.org
The post Join us for a live episode of the BikePortland Podcast on December 17th appeared first on BikePortland.org.