Updates and reactions to Saturday's tragic fatality on Lombard
Updates and reactions to Saturday's tragic fatality on Lombard
On Saturday night around 8:30 pm someone was killed while traveling on NE Lombard at 42nd.

Police still haven't released the victim's name, but they have arrested 26-year-old Kenneth Smith Jr. Smith was driving eastbound on Lombard and he hit a man who was riding a bike in the same direction, then fled the scene. He was caught soon after and has been charged with Manslaughter in the Second Degree, Criminally Negligent Homicide, Reckless Driving, and Driving Under the Influence of Intoxicants (Marijuana).
Both Smith and the man he hit were traveling eastbound on Lombard and the collision occurred right at the overpass of 42nd Ave. This section of Lombard is has two standard lanes in each direction and speed limit of 45 mph (people often drive much faster). There are bike lanes, but they end abruptly 300-400 feet prior to the 42nd Avenue overpass. We haven't confirmed it yet, but based on my observations of the crash scene Friday night, it does appear that the impact happened in the bike lane gap.
Here's an overhead view: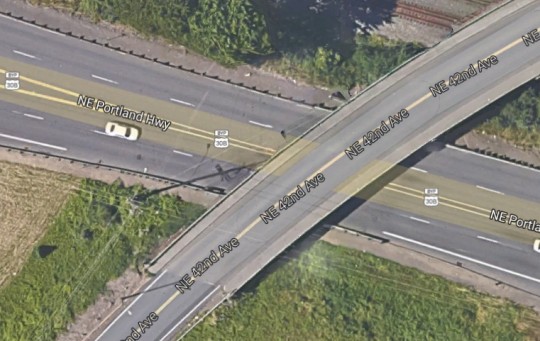 We've written about this dangerous section of Lombard twice in the past. On Friday, just one day before this tragedy, we highlighted it as a "scary pinch-point". We also featured it in 2013 in a story about how poorly we treat bike lanes under overpasses compared to the Dutch.
Last night KGW (our local NBC TV affiliate) aired a piece about the crash. They included comments from myself and from ODOT spokesman Don Hamilton. Hamilton said, "This is a reminder that we all have to look out for each other on the roads," Hamilton said. When asked about the possibility of a road diet to make a safer bikeway, he told KGW's Maggie Vespa, "That depends on the numbers, that depends on what the traffic engineers say about the amount of volume we have in the area, the amount of bicycles we have in that area."
Here's the KGW piece:

As for Hamilton's comments about traffic volumes on Lombard, there are very few people who brave this stretch of Lombard on a bike — but that doesn't mean it shouldn't be or couldn't be a good bikeway connection. The neighborhoods south of Lombard in the Cully Neighborhood are sorely in need of safe and efficient places to ride. Read this comment that came in Saturday night from "DisconnectedCully," a reader who lives near the crash site (emphasis mine):
"I live near here and depend on my bike to get around. It's impossible to find a safe route North or East of my neighborhood. I've spent so much time scouring online and paper maps trying to figure out how to get to 122nd, for example, and there are a depressing amount of 'difficult connections'. To get to I205 Multi-Use Path I have to decide between Lombard and it's barely-handlebar-width lanes next to 45mph traffic or a street devoid of bike lanes, with one lane each direction and cars impatiently whipping around me.

I am a confident rider yet I never ride on Lombard, the traffic is too close and too fast. In particular the disappearing-reappearing bike lanes, and the dicey way you're supposed to cross over a lane of traffic merging onto I205 South when heading eastbound. Columbia is much, much worse.

This shouldn't happen. It's time for the city to focus on improving conditions such as these in underserved neighborhoods like mine. We'll never realize Vision Zero until there are safer routes that serve and connect the whole city."
Local activists agree. Both BikeLoud PDX and the Bicycle Transportation Alliance have already responded to the crash.
BikeLoud volunteers say they're considering another "die in" event at ODOT's Region 1 headquarters in northwest Portland.
In a phone interview this morning, BTA Executive Director Rob Sadowsky said he's working on a call to action or a petition that will urge ODOT Region 1 Director Rian Windsheimer to prioritize a fix to the existing gap. The BTA feels that the only way to make Lombard safe is to add physical separation for the bikeway.
"Lombard is one of those streets that encourages high speed travel… That's where protected bike lanes can really save someone's life," Sadowsky said. He's also concerned about the possibility the driver was impaired by marijuana.
Sadowsky wants the City of Portland to analyze this crash "through a Vision Zero lens." If they do that, he says, "They'd probably come to the same conclusion we have, that you need physically protected bike lanes."
Another point of leverage for people who want to see ODOT do more to keep people safe on their roads is the major update of their Bicycle and Pedestrian Plan. There's a public open house for that plan tonight (12/14). It takes place at the APANO Multicultural space (8114 SE Division) from 4:00 to 6:30 pm. If you can't make it in person to tonight's open house, they just posted an online version.
UPDATE, 3:28 pm: The man who was killed has been identified as 38-year-old Martin Lee Greenough.
— Jonathan Maus, (503) 706-8804 – jonathan@bikeportland.org
The post Updates and reactions to Saturday's tragic fatality on Lombard appeared first on BikePortland.org.