Sinkhole on Springwater in Gresham leads to path closure
Sinkhole on Springwater in Gresham leads to path closure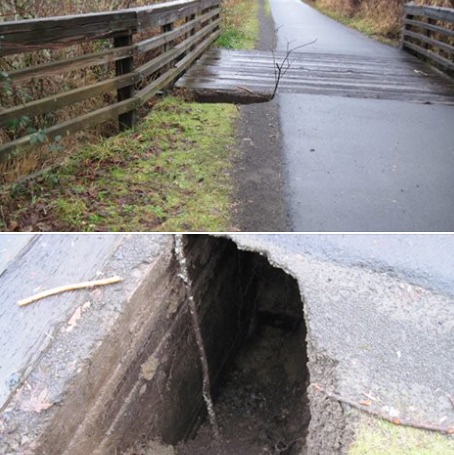 A section of the Springwater Corridor path about 20 miles east of downtown Portland has been closed due to a sinkhole.

According to Portland Parks and Recreation, the "potentially unsafe" sinkhole is just before a bridge on the section of the path between SE Callister and SE 262nd Avenue. They recommend a detour onto adjacent Telford Road (use caution if you do, because there's no bike lane and not much of a shoulder).
Parks hasn't said when the path will re-open. "Safety is the top priority… this section of the trail will be closed until engineering and other staff can adequately assess and repair the problem," reads a statement they put out a few minutes ago.
This isn't the only impact we've seen on the Springwater due to recent wind and rainstorms. Several trees fell across the path near Oaks Bottom yesterday. Here are a few shots of the trees shared on Twitter:
class="twitter-tweet" width="500">

@PDXParksandRec @PDXBikeTraffic yes, here is a better photo from the south side, just before Oaks Bottom Trail pic.twitter.com/eUUZSGa3Kl

— Peter Koonce (@pkoonce) December 22, 2015
class="twitter-tweet" width="500">

Well that wind is up to mischief: beware Springwater Trail Commuters, trees are strewn about… pic.twitter.com/MImZkr66CD

— Splendid Cycles (@SplendidCycles) December 21, 2015
Parks says they're aware of the trees on the path and that Urban Forestry staff are out assessing the situation now. The path is still open.
If you know of any other path closures, flooding, or other impacts, please get in touch with us.
— Jonathan Maus, (503) 706-8804 – jonathan@bikeportland.org
The post Sinkhole on Springwater in Gresham leads to path closure appeared first on BikePortland.org.