Cycle Oregon announces new women's ride and a coastal route for 2016
Cycle Oregon announces new women's ride and a coastal route for 2016
BikePortland is an official Cycle Oregon media partner.
At their annual route announcement party and gala at the Portland Art Museum tonight (and streaming live on the web) Cycle Oregon unveiled the route of their 29th annual ride that will take place from September 10th to 17th. Hundreds of people waited in the rain (some for several hours) for a chance to get first crack at guaranteed early registration for the event.
Cycle Oregon usually sells out quickly, so organizers gave the first 500 people at tonight's event a spot on the list. Registration for everyone else begins tomorrow (2/4) at 12:00 pm.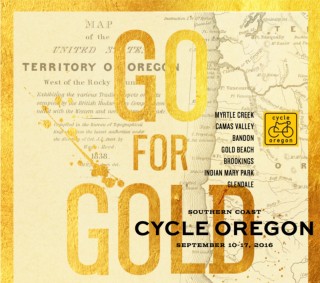 Detail of ride flyer.
Where are they all going this year? Here's the condensed version (taken from the ride brochure):
"The 29th annual Week Ride starts in Myrtle Creek and takes riders along rivers and railroads, through logging towns and coastal farms, to Gold Beach and back. Cyclists… will be heading to the southern Oregon coast. They'll follow the Umpqua and Rogue rivers and Oregon's stunning coastline as they journey over 400 miles through Myrtle Creek, Camas Valley, Bandon-by-the-Sea, Gold Beach, Indian Mary Park, and Glendale."
For a ride that has criss-crossed nearly every road and town in the state of Oregon (and some in Idaho, Washington, and even California), going to the southern coast is a rarity. "It's been over 20 years since we've visited the deep southern Oregon coast," says Cycle Oregon Ride Director Steve Schulz, "And we couldn't be more excited to showcase this area."
A coastal route will also likely avoid any risk of a fire like the one that forced a re-route of their ride in eastern Oregon last year.
Here's what you can expect on this year's Week Ride:
DAY 1
Into the Valley
MILES: 52 (54 W/OPTION) | ELEVATION: 3,222 (4,700 W/OPTION)
Myrtle Creek to Camas Valley: Your weeklong adventure begins with the wild and scenic Umpqua River keeping you company. You'll parallel the river through miles of flat valley roads while taking in views of hillside farms and ranches. Lunch happens in Lookingglass before you follow the historic Coos Bay Wagon Road through small towns, wineries, and farms. Some small climbs with smooth descents will lead you to the outskirts of the Coast Range. You can choose to take an optional killer climb followed by a two-mile descent into Camas Valley, where all riders will nestle in for the night.

Day 2
Heroic Hills
MILES: 75 | ELEVATION: 6,141
Camas Valley to Bandon: Shortly after leaving the valley, you'll tackle one of the tougher hills of the ride. From the top, you'll follow the ridgeline with endless views of the Coast Range, through active logging areas that power the economies of the small towns along the way. A quick and steep descent leads into miles of gentle downhill riding along the 914 Coquille River. After lunch in a park, three short climbs take you into the 610 timber town of Coquille for another break. The Coquille River remains your guide as you ride through marshlands and coastal farms and get your first peek of the Pacific Ocean—before arriving in Bandon-by-the-Sea to sleep.




DAY 3
PACIFIC PARADISE
MILES: 59 (70 W/OPTION) | ELEVATION: 3,400 (3,958 W/OPTION)
Bandon to Gold Beach: You'll get a bird's eye view of the ocean rock formations in Bandon by riding out high along the coastline. The Oregon Coast Bike Route will take you past cranberry bogs and coastal forests. An optional detour to the Cape Blanco Lighthouse offers spectacular views of the Pacific from the western-most point in Oregon. Either way, you'll get some seriously jaw-dropping views when you arrive in Port Orford, the oldest town on the Oregon coast. After lunch at Humbug Mountain State Park, you'll follow along 101 before heading inland on country roads. Pedal until you reach the Rogue River and follow it back west for two nights at Gold Beach, the sunniest place on the Oregon coast.

DAY 4
OCEANSIDE DELIGHT
MILES: 55 (61 W/OPTION) | ELEVATION: 3,952 (4,940 W/OPTION)
Gold Beach to Brookings Loop: Feel free to put your feet in the sand and rest up for the day. But if you've got juice left in the tank and feel like riding, you'll head south along the coastline. Twelve miles through the Samuel Boardman State Park are waiting for you, along rugged, steep ocean-side roads. Take in views of sandy oases framed by forested sea stacks, and see Sitka spruce, arch rock, and natural bridges all along the way. After a beachside lunch at Harris Beach State Park, you'll ei- ther go back the way you came or add some climbing by taking an inland route back to Gold Beach.

DAY 5
GO ROGUE
MILES: 71 | ELEVATION: 7,400
Gold Beach to Indian Mary Park: As you bid farewell to the ocean, the Rogue River becomes your friend before you embark on one of the most epic climbs in Cycle Oregon history. You'll follow the river for 27 miles—keep an eye out for eagles, osprey, and other wildlife along the way!—and cross the isolated Illinois River, known as the least accessible river canyon in the lower 48 states. You'll leave the Rogue for now to head upward for 16 miles lined with Douglas Fir and Hemlock trees to the summit of Bear Camp. You'll refuel at the top before being rewarded with 20 miles of downhill to reach your overnight respite on the banks of the Rogue River at Indian Mary Park.

DAY 6
GOLD PAN ALLEY
MILES: 66 (85 W/OPTION) | ELEVATION: 4,040 (4,900 W/OPTION)
Indian Mary Park to Glendale: The Rogue River stays by your side as you depart Indian Mary Park on a gradual downhill while following a cliffside single-lane road. After 12 miles, you'll cross the river and follow Lower Grave Creek past active mining claims on a gradual climb to- ward the historic Wolf Creek Inn for a break. Backcountry roads through farms and foothills will take you to a lakeside lunch at Chief Miwaleta Park. If you're up for it, you can continue for an additional 10 miles be- fore turning back and following the main route into the lumber town of Glendale.

DAY 7
END OF THE RAINBOW
MILES: 42 | ELEVATION: 1,650
Glendale to Myrtle Creek: Out of Glendale, you'll take a light climb through a recent forest-fire burn area before descending to Cow Creek and easing into your final day in the saddle. You'll follow Cow Creek through Conifer and hardwood forests, along the original Oregon and California Railroads with historic trestles in view. Feeling lucky with all those endorphins swirling? You can look for gold along this once-bus- tling gold-rush spot, or just take it slow and soak your feet in the creek. You've earned it. On the other side of the canyon is the finish line – and your pot of gold.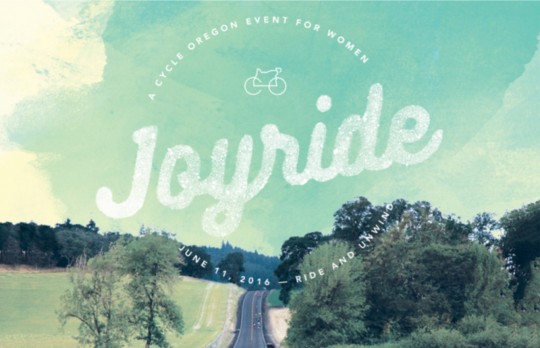 Promo art for "Joyride" event.
In addition to the Week Ride route, Cycle Oregon also announced their first-ever women's only ride. Dubbed "Joyride," the June 11th event will be a one-day exploration of the Dundee Hills in the Willamette Valley with a base camp at the Stoller Family Estate vineyards. Check out the description of the event:
Grab your friends, daughters, sisters, and moms and escape to the countryside! Whether you're a newbie or veteran rider, we hope you'll join us for Cycle Oregon's first annual one-day event celebrating women on bikes.
You can come just to ride or make a weekend out of it—riding, laughing, and relaxing as you relish in Oregon wine country. With three stunning routes and signature Cycle Oregon support, simply come ride your bike, kick back, and be pampered. Locally sourced rest stops and lunch with live entertainment, and temptation stations of wine, cheese, and chocolate will have you wishing you could take a Joyride everyday.
The family-friendly Weekend Ride (July 8-10th) will base out of Oregon State University campus in Corvallis and riders can choose from three different routes routes that explore the Willamette Valley while the little ones can opt to stay behind at popular bike camps.
Cost for the Week Ride is $985 per rider. It's $199 per adult and $99 per child (age 7-17; kids 6 and under are free) for the Weekend Ride, and $100 for Joyride, the Women's Ride. Any proceeds from Cycle Oregon's events are directed to the Cycle Oregon Fund, which makes annual grants to projects throughout Oregon. Host communities also benefit from the ride when thousands of riders spend time and money while biking through. The communities hosting this year's Week Ride will received more than $150,000 from the organization for their troubles.
BikePortland is an official media partner of Cycle Oregon this year. We'll photograph and report from all their events. Stay tuned for a sneek peak at the southern coast route similar to the "5 Days in Eastern Oregon" project I did last year.
— Jonathan Maus, (503) 706-8804 – jonathan@bikeportland.org
BikePortland can't survive without paid subscribers. Please sign up today.
The post Cycle Oregon announces new women's ride and a coastal route for 2016 appeared first on BikePortland.org.