Bicycle rider involved in collision with WES commuter train in Tualatin
Bicycle rider involved in collision with WES commuter train in Tualatin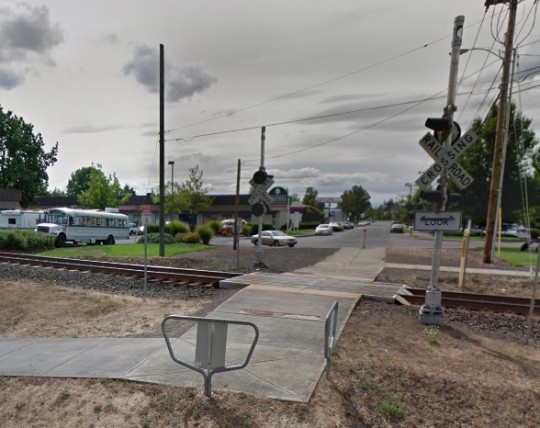 A man riding a bicycle was involved in a collision with a TriMet WES Commuter Rail train south of Tualatin this evening. It happened just before 5:30 pm.

TriMet hasn't released any official details other than to warn WES riders of a service delay.
KGW TV has just reported the name of the man who was hit as 48-year-old Timothy Nester. He's currently at OHSU and it's not known how severe his injuries are.
Here's more from KGW:
"… it appears Nester attempted to cross a pedestrian crossing south of the intersection of Southwest Boones Ferry Road and Tualatin-Sherwood Road, Pickering said.

A 911 caller reported the train operator sounded the horn before the collision. Flashing lights were also working properly, Pickering said."
Here's a look at that location from above…
We heard from a man who was a passenger on the train. He said Nester's bicycle was removed from the front of the train at around 6:45 pm. "Train crew seemed very subdued. Seems like the worst." he wrote.
We'll update this story as we learn more.
— Jonathan Maus, (503) 706-8804 – jonathan@bikeportland.org
BikePortland can't survive without paid subscribers. Please sign up today.
The post Bicycle rider involved in collision with WES commuter train in Tualatin appeared first on BikePortland.org.