Filmed by Bike starts tonight!
Filmed by Bike starts tonight!
A big street party in the parking lot behind Velo Cult will kick off the 14th annual Filmed by Bike film festival tonight.
This isn't just any party. There will be live performance art, a bike confessional storytelling booth, live DJs, a beer garden, group rides all over the place, a slow bike race, and who knows what else.
But beyond the fun is something even bigger: This is our film fest. A local, bike-inspired event that we should all be proud of (and support!). A testament to what's possible when a city's bike culture is hitting on all cylinders.
Filmed by Bike inspires and entertains people all over the globe with its unique collection of bike movies, and it's also an amazing success story. It's hard to believe this little event that northeast Portlander Ayleen Crotty dreamed up way back when is now one of the best and biggest events of the year. In the past few weeks I've seen headlines about it in the media all over town. Now that's inspiring.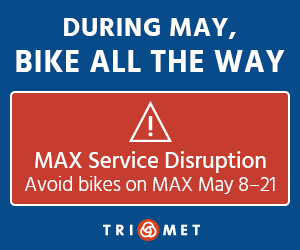 From tonight's party to the final curtain, there's a lot of fun to be had. There's a brewery tour ride with the filmmakers, Q & As, four different programs, special guests to introduce the films, and much more.
Saturday's films have a love theme and on Sunday it's all about adventure. Get pumped before you go by reading stories about the fest from KGW-TV, The Willamette Week, The Portland Tribune and The Oregonian.
If you go tonight and get tickets to the 9:00 pm show, I'll be up on stage before the films start to have a chat with Ayleen. Hope to see you there!
— Jonathan Maus, (503) 706-8804 – jonathan@bikeportland.org
Our work is supported by subscribers. Please become one today.
The post Filmed by Bike starts tonight! appeared first on BikePortland.org.