The Monday Roundup: Urban alleys, collision readiness & more
The Monday Roundup: Urban alleys, collision readiness & more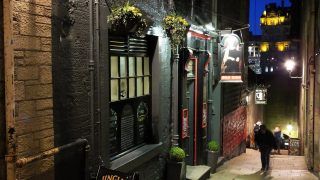 — This week's Monday Roundup is sponsored by Hassalo on Eighth, Portland's new neighborhood now leasing in the Lloyd District.

Here are the bike-related links from around the world that caught our eyes this week:
Urban alleys: They're narrow. They're non-uniform. They're underrated public spaces.
Collision text: If you're ever in a traffic crash, having this text in your notes app might be a good way to avoid forgetting to gather important details as your body escapes shock.
Efficient chain: The "ultra-low-friction" one used by the American team on the Tour de France can allegedly cut 2 to 5 watts off a bicycle's operating cost.
Second fatality: A 49-year-old Vancouver man who killed a man with his car on a local highway Wednesday told officers he "could not believe" that he had done this for the second time in 25 months.
Low-stress prosperity: "Pedaling through Copenhagen, I saw that safety is just the baseline benefit of world-class cycling infrastructure," writes Boston council president Michelle Wu after returning from a study tour there.
Bed-Stuy bike sharing: Citi Bike usage has risen fast in the heavily black and Latino Brooklyn neighborhood, possibly due to targeted outreach efforts.
Bike sharing as transit: A co-branded system (you can unlock bikes with your transit card) seems to be part of its rapid early success in Helsinki.
Bike toll: A new bridge in Maryland charges each bike the same $8 toll as a car. It doesn't have bike lanes.
Wilderness biking: Utah Sen. Mike Lee has introduced a bill to give "local federal officials" authority to make decisions about nonmotorized access to wilderness areas.
Airbnb for camping: A local "land sharing" startup helps people rent parts of their private land to bikepackers and other people passing through.
Vehicular cycling: The well-intentioned philosophy of putting bikes in the same lanes as cars "had 40 years to prove itself, and it's now time to move on," writes Tom Babin in a commentary about downtown Los Angeles's first protected bike lane.
Blocking freeways: They've become "scenes of protest" but they're also "part of the oppression," writes Emily Badger in the Washington Post.
Pokémon Go: "This app will probably get more kids riding bikes than all the articles we've written on the health benefits of commuting to school combined," writes Bicycling Magazine.
Density game: Playing Pokémon in the suburbs sorta sucks.
Longer walks: A Connecticut school district is expanding elementary school walk distances from 1 mile to 1.5 to save money on buses.
Presumed liability: A biking advocate in Scotland's parliament wants his country's justice system to presume people driving cars are liable for collisions unless they can prove otherwise.
Collision blame: After a new collision involving Tesla's autopilot was reported, founder Elon Musk wrote that his team "don't mind taking the heat for customer safety. It is the right thing to do."
Harder driving test: Washington state's is going from 25 questions to 40 and adding questions about distracted driving and marijuana.
Road-rage shooting: An Olympia man allegedly opened fire on a man who allegedly broke the man's window with his skateboard after a right-of-way dispute.
2.8 percent: That's how many respondents to a AAA survey admitted to intentionally hitting another car with theirs. Including other actions such as honking in anger, 78 percent of people copped to at least one "aggressive driving behavior" in the last year.
Unpaving: Montpelier, Vermont, cut its road maintenance budget by almost 10 percent in 2009 by becoming one of a growing number of cities that are converting selected streets to gravel.
Neighborhood associations: Seattle's mayor wants to scrap their channel of power in the city's government, calling them "narrow" and "niche" organizations, and create a new "community involvement commission" that'll aim for more diversity.
"Best" Broadway: Willamette Week's Best of Portland issue recalled the "magical week in May" when Better Block PDX converted one passing lane on Broadway to a protected bike lane as the "Pop-Up Future" of the area.
Carbon price: Canada will be charging a penalty for activities that contribute to global warming by year's end, its environment minister says.
Gorge winds: The one-mile stretch just east of Hood River where the wind pedals for you is the best part of the new Historical Columbia River Highway State Trail, writes Al Thomas.
If you come across a noteworthy bicycle story, send it in via email, Tweet @bikeportland, or whatever else and we'll consider adding it to next Monday's roundup.
The post The Monday Roundup: Urban alleys, collision readiness & more appeared first on BikePortland.org.