The Monday Roundup: Rio, speedy e-bikes, subway fashion, and more
The Monday Roundup: Rio, speedy e-bikes, subway fashion, and more
It's the Monday Roundup… On Tuesday!
Here are the stories that caught our eyes in the past week.
Bike theft drop: The latest data from the UK says bike theft has dropped 25 percent in five years. While most theft goes unreported, this is still a very encouraging sign.
A golden idea: The Netherlands wouldn't be at home without their bikes at the Olympics so they brought a fleet with them to Rio.

Excuse our mess: Watch the lengths this Copenhagen work crew goes to avoid inconveniencing — err, umm getting dirty — people on bicycles.
They say it but won't — and shouldn't — do it: As per usual, the two presidential candidates say they want to spend billions on new highways and bridges. Not only would that lead to outdated projects, a writer with Bloomberg says that money would be better spent locally.
Speed kills, even on bikes: Been expecting this type of research: The higher speeds of e-bikes are likely to cause more crashes. Duh. It's not about the type of bike though, it's just about speed. Slow down if you want to live.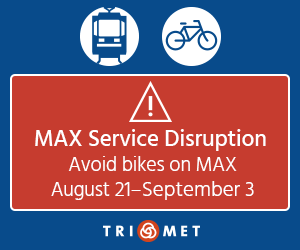 Shit hitting fan: Fires, record heat, epic floods; this climate change stuff isn't a theory or a conspiracy. Rolling Stone lays out the case on why we should all be worried and why we should all make better choices to slow it down.
Amsterdam problems: Very illuminating article about the new Bike Mayor of Amsterdam who says too many (rude) people on bikes might make it a less safe and therefore attractive option.
Transit fashion: A designer who makes clothes inspired by subway seat fabric. How was this not started in Portland?!
Get-rich-quick scheme for cities: More evidence from New York City that protected bike lanes are good for business. Can someone send this link to the Portland Business Alliance and CC Commissioner Novick and Mayor Hales? Thanks.
Countdown to launch: Audi says putting red light countdown timers in their 2017 cars could make for "more relaxed" driving. Either that, or wanna-be drag racers will use it to beat the competition.
Do you keep up with the latest news and love the Monday Roundup? We're looking for a Monday Roundup editor. It could be you! Please get in touch if interested.
— Jonathan Maus, (503) 706-8804 – jonathan@bikeportland.org
Our work is supported by subscribers. Please become one today. You can also make a one-time donation here.

The post The Monday Roundup: Rio, speedy e-bikes, subway fashion, and more appeared first on BikePortland.org.