Metro will install 400 new route signs on regional trail network this year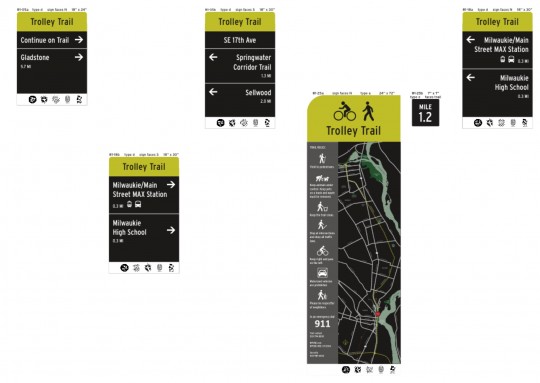 With dozens of different jurisdictions managing over 100 walking and bikings paths and trails in our region, the design of route signs is all over the map. There's no consistency from one path to the next and many signs are outdated and not nearly as helpful as they should be. Thankfully Metro is working to change that. They plan to put up 400 new signs on paths and trails in 2016.

Metro's Senior Regional Trail Planner Robert Spurlock said the project is at the heart the mission of The Intertwine, a regional coalition launched in 2009 to build all the parks, paths and trails in the Porltand-Vancouver metro area.
"For years we've been asking the public how the regional trail system is working for them and how it can be improved," he said in an interview last week. "And people always say they want better wayfinding." Metro has been working with other Intertwine partners for years to create a unifying signage standard that would cross jurisdictional boundaries and serve the public with more clarify. Spurlock says a working group of 20 representatives from regional parks and transporation agencies got together four years ago to help write the grant application. Tests of the new design first went up in 2012 along the Fanno Creek Trail in Tigard and surveys have shown they have a 95 percent positive feedback rating.
The new signs are funded with federal transportation revenue that came to Metro through a $265,000 Oregon Department of Transportation grant.
Here are more images and examples of the signs: